http://healingfromthestart.com/wp-content/uploads/Precious_Child_by_Karen_Taylor-Good.mp3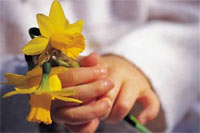 For newly bereaved parents and their families when a baby dies (or is going to die) due to miscarriage, stillbirth or shortly after birth
***Peer Support Parent Service***
Peer Support Parents provide newly bereaved families compassionate grief support prior to their baby being born, during and afterwards as well. Peer Support Parents are those that have survived a similar loss and can now be a source of hope and guidance to newly bereaved parents.
Some of the benefits of receiving 'Peer Support' are as follows:
. A Peer Support Parent can thoroughly explain to newly bereaved parents the options for saying hello and goodbye to their baby who has died (or is going to die.)
. Clarifying to the parents 'why' say hello/goodbye and create keepsakes to remember their baby by (allowing families to arrive at their own decisions.)
. Helping guide bereaved parents to spend precious moments with their baby (this is in fact their only time to parent their child.)
. Facilitate acquiring photographs and/or a "Now I Lay Me Down To Sleep" volunteer professional photographer to take beautiful FREE remembrance photographs of their precious baby (if the parents so choose.)  http://www.nowilaymedowntosleep.org/ 
. Be a sympathetic ear & advocate for the parents (this could help lighten the load for medical staff too.)
. Explain some options for and attend memorial services, funerals and/or baby loss support groups with the family (if the parents so choose.)
. Offer follow up Peer Support to the bereaved familieswhen they are back at home; via  telephone, email, written and in person.
. Provide bereavement resources (readings, books, support groups, web sites etc…)
. (For Future Pregnancies) Offering Subsequent Pregnancy Peer Support.
***PLEASE NOTE***
(All support provided is completely confidential)
To clarify, Peer Support Parents are not counselors and are not intended to replace professional counselors when one may be needed. Peer Support Parents are bereaved parents who have integrated their losses into their lives, have had training in providing Peer Support and are now able to gently guide newly bereaved parents in spending time with their baby, as well as throughout their grief journey.
For more information please contact Lori Martini at LoriMartini@HealingFromTheStart.com